Cleveland HeartLab (CHL) offers advanced laboratory tests to help assess your risk for heart disease. CHL's billing policies in regards to Medicare, Insurance, Health Savings Account (HSA) / Health Reimbursement Account (HRA), and Patient Self-Pay are outlined below. In addition, we have Patient Advocates who are experts in our billing process, as well as navigating the claims process. They are available to answer any questions you may have and can be reached at 866.358.9828 (Option 2) or by e-mail at patientadvocate@clevelandheartlab.com. They are available Monday through Friday, between the hours of 8:00 am to 7:00 pm EST.
Medicare
Cleveland HeartLab is a Medicare approved provider. If you only have Part A coverage, then lab tests will not be reimbursed by Medicare and you will be responsible for payment. If you have Part B coverage and the tests are medically necessary, then the tests will be covered by Medicare. In the case where the test may not be covered by Medicare, an Advance Beneficiary Notice (ABN) form is required. You will receive advance notification of any tests that require an ABN from your medical provider.
Download ABN Form  Download New York ABN Form
---
Download Understanding the ABN Form
Insurance
In-Network Insurance
This policy applies if CHL is contracted as an in-network laboratory provider with your insurance company. We will file a claim with your insurance company and you will receive an invoice reflecting your co-insurance or co-payment responsibility in accordance with your insurance benefits.
Out-Of-Network Insurance – EasyPay Program
This policy applies if CHL is not contracted with your insurance company as an in-network laboratory provider. CHL has implemented the EasyPay program which reflects our estimate of the likely co-insurance or co-payment after the insurance remittance. You will receive an invoice for the amount due. For more information on our EasyPay program, please contact one of our Patient Advocates.
IMPORTANT: In the event that your insurance company sends a check directly to you, rather than CHL, sign the back of the check and write "Pay to Cleveland HeartLab" and forward the check along with the Explanation of Benefits to the address below:
Attn: Billing Dept.
Cleveland HeartLab Inc./CHLGEN
P.O. Box 8587
Carol Stream, IL 60197-8587
Health Savings Account (HSA) / Health Reimbursement Account (HRA)
If you are currently enrolled in a HSA/HRA account, CHL has a market price for our testing. We are not able to identify, at the time of testing, that you have an HSA/HRA account which results in possible payment (withdrawal of funds from your HSA/HRA account) at list prices. If you have concerns after you receive your Explanation of Benefits, please contact a Patient Advocate at 866.358.9828 (Option 2) and they will work with you and your HSA on adjusted rates, to the extent legally permitted.
Please Note: If you have opted out of laboratory services being part of your HSA account, your claim will be processed as insurance (see above). To verify if laboratory services are part of your HSA or if you have the option to opt out, you should contact your Human Resources Department or your health insurance carrier.
Patient Self-Pay
If the requisition form indicates that you are responsible for payment, then you will receive an invoice that reflects CHL's standard test prices. Discounts are offered for prompt payment.
Explanation of Benefits (EOB)
An Explanation of Benefits (EOB) is a form or document that may be sent to you by your insurance company after you had a healthcare service that was processed by the insurance company. You should get an EOB if you have private health insurance, a health plan from your employer, or Medicare. Your EOB is not a bill, but a summary of services provided by your insurance company.
Example of EOB: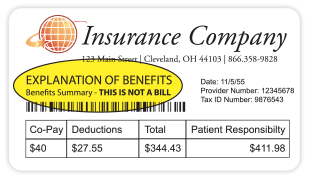 Patient Assistance Program
For those patients with financial hardships, we provide a program to assist with medical expenses. Please call 866.358.9828, (Option 2) to speak with one of our Patient Advocates who can give you more information about this program.
IMPORTANT: CHL is not eligible to participate in Medicaid or Workers Compensation Programs.